How to build roman pteruges
Traduzione in italiano


1 | 2 | 3
The Jaime Castillo version
Inspired by Jef Pinceel's fabric pteruges which were displayed on RAT1, I've tried to come up with a simpler alternative method of converting leather pteruges into a multi-layered fabric version. The method described below requires only one leather "pterygion", one linen layer, and one felt layer. I added a felt backing to my own pteruges so that mine are now four layers thick. The result is fairly attractive in my opinion and less time consuming although it took me about 4 days to achieve. There is a lot of measuring, cutting, sewing and (especially) gluing involved. My old leather pteryges were made of 3-4 oz. veg tan leather with gold fringe glued to the bottom of the backside. Each strip measures about 12 inches long by 1 inch wide.

1) Start with the felt by marking out 1 inch by 12 inch strips and cut them out using a paper cutter. Two strips per pteryge. (Since I have 36 pteruges, I needed to cut out 72 yellow felt strips.)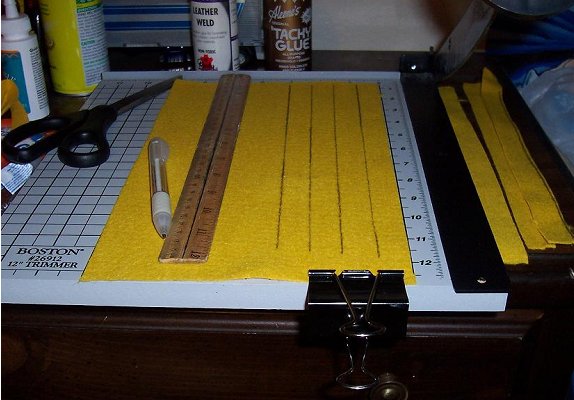 2) Then take the linen and do the same. Make one strip per "pterygion". I used chalk to mark out the strips. Below you see the linen which will be glued onto the leather pteruges.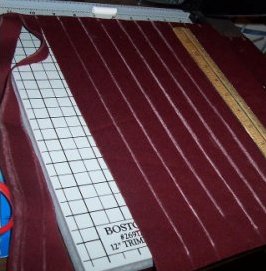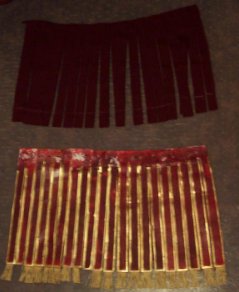 3) Once you have the linen strips cut out, sew them onto the leather pteryges right on the edges (I used a regular sewing machine but the stitches will be completely concealed.) Then place one felt strip over the pterygion and sew directly onto one edge, either left or right. Now flip the unstitched side underneath the leather and glue it to the back side. I recommend a hot glue gun because you will need about 20 glue sticks. There, you have a raised edge without any visible stitches. Repeat this for the other side. Now you have a gap at the bottom. Just cut out a small piece of felt and glue it in the gap. (See pictures below.)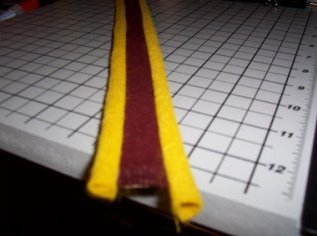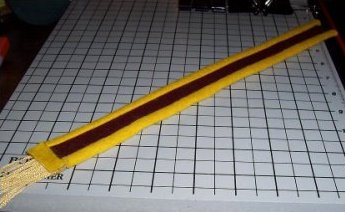 4) The finished pteruges are stiff, but also pliable at the same time. They look functional and aesthetically pleasing. Before adding the fabric layers they didn't look all that formidable for usage in battle.
I have concerns about using felt for the edges though since felt tends to fray over time, especially if it's not carefully stored. Next time I may opt to use leather for the edges instead.


Jaime Castillo2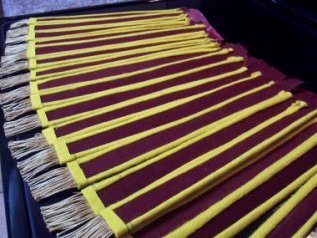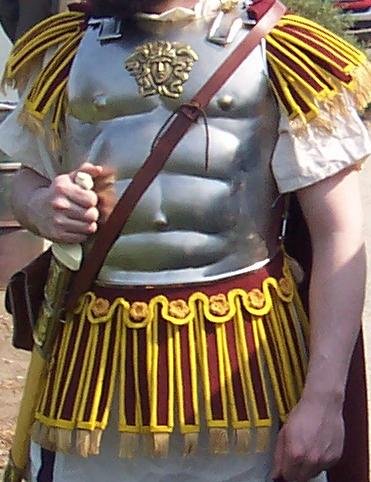 Notes
1 - Roman Army Talk online discussion forum.
More on this discussion here.
2 - For further information or questions contact Jaime Castillo (aka "Theodosius the Great" in the RAT forum) or this email address: sagitarii@sbcglobal.net.

Traduzione in italiano


1 | 2 | 3