Deepeeka Praetorian Signa
February 2004
Every roman reenacter knows very well Deepeeka because of his very low prices compared with a quality that is usually acceptable.

This standard is provided by the french web site armae.com, and no documentation related to the original is provided. We suppose this to be a replica of the praetorian signa from the tomb of Marco Pompeo.
All the items received are shown in the pic. 1. No wooden shaft is provided and everything must be assembled. All the iron pieces arrived rusty, and some solderings of the brass images were broken.
Pieces are made of brass 1mm of thickness definitely mass produced and not really "handcrafted".
Comparison with the supposed original gives a sensation of a total inaccuracy, with the exception of the five coronae that are acceptable, even if they have evidences of soldering. All the other images reproduced are of very low quality. The worst piece is the supposed Victory that has a visible indian (?) sword, definitely not roman, and also totally different from the one on the sculpture.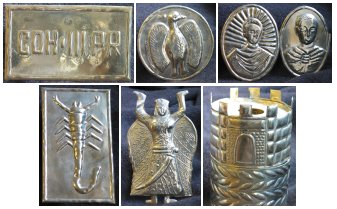 Pic. 2 - Click on each image to see the enlarged picture.
All the pieces have on the back a soldered tongue for the wooden shaft. In the image below is also evident that the diameter of the holes of the two iron handles are not the same of the brass pieces. The worst is that also the five coronae have different diameter. This means that many adjustements are required in order to be able to assemble all the pieces.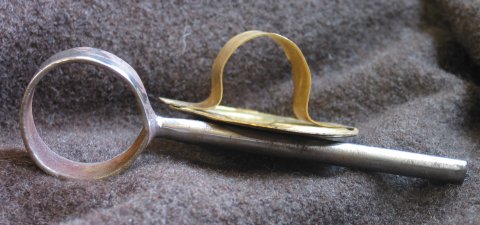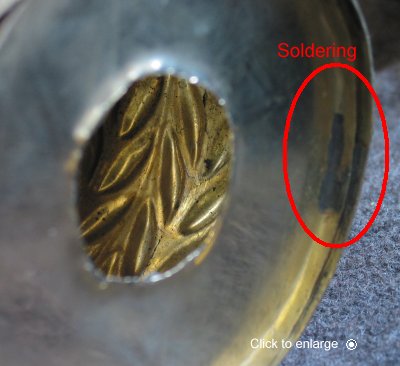 Conclusion
The item is very inaccurate and requires too many adjustements to be assembled. The price varies from 140 to 200 euros, too much for the quality offered.
Evaluation*

Historical accuracy (comparison with the original):


Philologic evidences:



Robustness:



Test:



General Impression:


Price: 140-200 Euro


Overall Evaluation:



Deepeeka
D. 78 Saket, Meerut 250006 (India)
tel.: ++91-121-2640363 Fax ++91-121-2640988
To make your items reviewed contact us.