Mark Antony and Cleopatra tomb probably found
August 20th, 2006
Luca Bonacina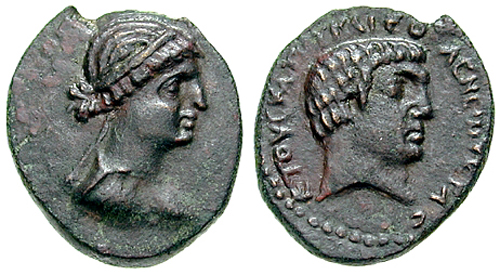 A coin with Cleopatra (left) and Mark Antony (right)
Pompeus from Rome was nominated tutor of his brother so she left to Syria to build his army. In the meanwhile in Egypt Pompeus has been killed and Cleopatra went back and took the power.
She was knowing many languages and she was able to speak with 7 nations without translator's help. Julius Caesar was fascinated by the woman and fall in love with her and gave birth a child, so Cleopatra decided to transfer to Rome where she received a chilly reception. Her presence is believed to be one of the causes of the Julius Caesar's murder.
Mark Antony, Caesar's lieutenant, proclamated his son as Caesar's heir in front of the Roman Senate, but Octavian contested the proclamation and states to be the successor. Cleopatra decided to go back to Egypt and Mark Antony reached her. In these months he lost the Antium battle agaist Octavian and Octavian proclamated himself "principe" becoming the very first emperor in Rome's history, with the name of Augustus.
After the battle lost Mark Antony killed himself with his gladius and Cleopatra when feels Octavian's army close to her she committed the famous presumed suicide with a viper.
If Hawass will be right we will be able to give new light to this story of love, war and power.