There was a surprise in the pipeline for archaeologists on a Roman fort dig at Vindolanda in Northumberland

February 6th, 2004
By Tony Henderson Environment Editor, The Journal

They unearthed 30 yards of wooden mains which fed the fort with water from nearby springs.
And to their amazement, the mains were still working and carrying water - almost 2,000 years after they were first installed.
"The fact that they were still working is quite incredible but it was also a nuisance because they flooded the excavation trenches which had to be pumped out every day," said Robin Birley, director of excavations at Vindolanda.
The pipes had been created by drilling huge lengths of alder, which were joined together by oak pegs.
"There were no nails or iron. Everything was done by joinery which fitted perfectly," said Robin.
The pipes were found under the floor of what is believed to be a hospital from around 100AD.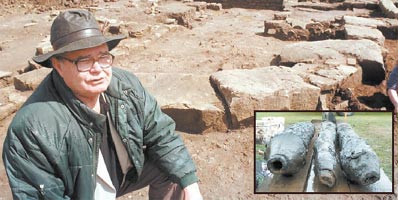 Vindolanda director of excavations Robin Birley
It is thought the mains network fed spring water to individual buildings in the fort - a system which did not return to parts of Northumberland until the 19th Century.
The dig has also revealed that something was afoot in the fort itself when it came to the soldiers and their relationships. It has been generally believed that women were not allowed to stay inside the fort with the troops.
But the dig has uncovered a total of 238 boots and shoes - and half of them belonged to women and children. "There doesn't seem to be much doubt that there are women and children in the barracks," said Robin.
Vindolanda become famous through the discovery of about 1,700 examples of writing tablets which give a remarkable insight into life on the Roman frontier.
Now, with the backing of the Heritage Lottery Fund, the Vindolanda Trust has bought 15 acres of farmland adjoining the fort.
A magnetometer survey has shown that there are significant remains beneath this land.
Robin said: "It seems that there is a vast amount of activity and everything under the sun out there - workshops, industrial activity, houses and burials."
The new land doubles the area available for excavation. Around 800 people lived on the site for 350 years and Robin reckons that the original 13-acre sort site will take another 150 years alone to excavate.