Huge Etruscan Road Brought to Light
June 19th, 2004
by Rossella Lorenzi
Passing through Bologna, the ancient "two-sea highway" runs just a few meters away from today's modern highway which links Florence to the Tyrrhenian coast.

"It all started with the discovery of four big stones. I realized they could not lie in an alluvial plain by chance. As we dug a sample area, we found a large road still bearing the ruts left by chariots 2,500 years ago," Zecchini told Discovery News.

Dating to the end of the 6th century B.C., the seven-meter-wide (23-foot) road supported intense chariot traffic towards Spina, an Etruscan-controlled trading emporium where Etruscan and Greeks lived and worked together, and through which were imported great quantities of Greek goods.

"A great amount of information, including tombs, monuments and villages, lie hidden along this road," Zecchini said.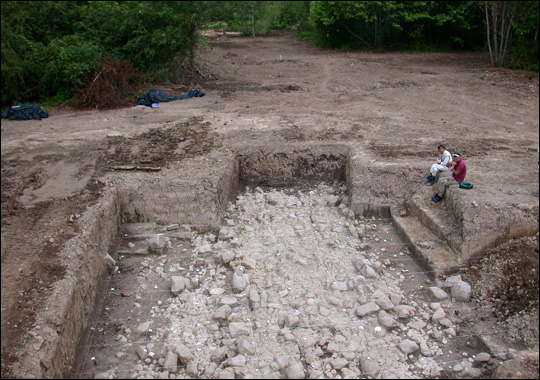 Above is the excavated Etruscan road, just a few yards away from today's modern highway that links Florence to the Tyrrhenian coast.
The ancient highway was also mentioned by Greek geographer Skylax, who in the 4th century B.C. wrote that a great road linked Pisa with Spina by a three-day journey.

Zecchini and his team have so far brought to light a 200-meter-long (656-foot) section. The discovery took place in an area that, from the 6th century A.D. until 1850, contained a large and rather deep lake.

The lake gave birth to the legend of Sextum, a rich and powerful city that disappeared under a terrible flood.

Sixteenth-century texts found in Lucca's archives recount fishermen who could see the remains of a submerged city on the bottom of the lake. They even used the city's streets and square as reference points for their fishing.

"Our archeological survey has shown that the remains do not belong to the legendary Sextum, but to innumerable ancient Roman farms. Indeed the area has been dubbed 'the plain of the 100 farms.' But nobody would have ever imagined that this plain could hide such an imposing road," Zecchini said.

The archaeologist hopes to uncover at least 15 kilometers (nine miles) of the ancient road.

"This is a fantastically important discovery for many reasons. It confirms the importance of the Etruscan roads which linked the great cities of Etruria, which have not been found so far because they lay beneath the later Roman roads. This section of the road was long covered over by a lake, a fact which accounts for its excellent condition, which will allow archaeologists to study details of its construction," Larissa Bonfante, professor of classics at New York University and an authority on the Etruscan civilization, told Discovery News.

Bonfante added that the road's early date — the archaic period of 500 B.C. — means that it was made and used during the period of the Etruscans' greatest power and influence, when they had extended their influence south to Rome.

"They had craftsmen who specialized in making various types of chariots, including the sturdy vehicles with standard widths which left the ruts on this road," Bonfante said.