Roman Fort with dozens of shoes discovered in Falkirk (Great Britain)
September 22nd, 2011

A new roman fort has been discovered at Falkirk in Great Britain. Archeologists say they have found evidence of at least two Roman forts dating back to the first and second centuries AD that would have been used when the Antonine Wall was built.
Archaeologist Martin Cook who is working on the project said the find is one of the most important in the Falkirk area for "decades". Among the artefacts dug up are bones, jewellery, ceramics, ovens, coins, but, what makes this discovery amazing are the up to 60 couples of leather shoes.
The Camelon site, home to the former Wrangler factory, is being cleared to make way for a Tesco store by contractors Barr Construction. AOC Archaeology, which excavated the land for them, uncovered a rich bounty of archaeological relics.
Mr Cook said: "This will be one of the most important finds in the Falkirk area for decades and one of the best ones we've been involved with. It's hugely exciting "We found some Samian pottery from France, more than we expected to find. There were coins, trumpet brooches and 60 pairs of leather shoes in the ditch, something we really didn't expect and which is hugely important statistically.


"We dug up less than 10 per cent of the site so there will be a huge amount across it as a whole." To avoid digging as much as possible, the rest of the site will be preserved in situ, although the team would like to dig more. Mr Cook added: "The forts pre-date the Antonine Wall and would have been used while it was being built. Boats would have come to them from the River Carron."
The new Tesco supermarket is to be built on the east side of the site to allow the archaeology to be preserved under new car parks. Falkirk Council's keeper of archaeology and local history, Geoff Bailey is hopeful the arrtefacts will stay in Falkirk once they've been examined. He said: "The Camelon site is the most important we have in the Falkirk area and is of major significance. Sites like these don't come up very often.
"The main body of the fort is on the other side, the north side of the railway which shows just how big it really is. "The artefacts will be examined and recorded and experts will examine them before they will be sent to the best repository. "Falkirk Museum will put in a bid and, given the amount of other material we have, we hope it will be kept together. We are optimistic the material will come to Falkirk."
Examples of some of the artefacts and photographs are on public display in a portable cabin on site.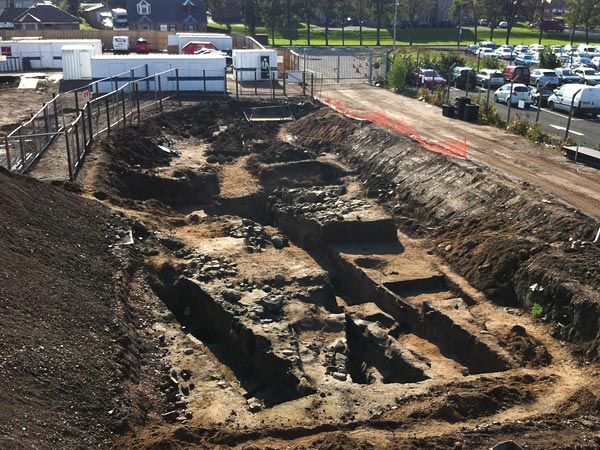 A sight of the excavations.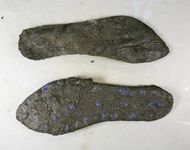 Some shoes found in the fort.