A ship and a palace found in the roman port of Naples
January 2nd, 2004
During the excavations for the new metro line, workers have discovered the ancient Naples seaport fall 2003 under Municipio Square, in the centre of Naples. Today the experts have announced a new important finding, in the same excavations, of a roman ship at 10 metres below the sole. The ship is dated 2 century AD. The works in Nicola Amore Square, not too far from the first site, have revealed also the remainings of palace of the imperial period.
In addition the excavations, conducted by the archeologist Daniela Giampaola with the Archeological Department of Naples, have revealed a black and white mosaic.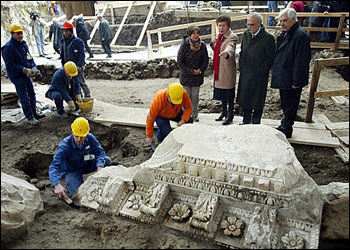 A piece of the big marble fronton
According to the local authorities, some of the findings will be not moved and special displays will allow metro users to watch them, while many other smaller findings will be displayed in a new "Sea Museum" within the city.