Rome's sea route reopens after 200 years
October 26th, 2003
By Rachel Sanderson
OSTIA ANTICA, Italy - Riverboats will return to ancient Rome's sea route for the first time in 200 years next week, giving tourists a view from the Tiber river to rival any of the Eternal City's attractions on dry land.
The boats will ply a disused route along the green-tinged river from the edge of the city centre to the mosaic-filled ruins of Ostia Antica -- a two-hour trip away from the whizz of scooters and the pilgrims at St Peter's Square in the Vatican.
"It was the greatest gateway to Rome," said Anna Gallina Zevi, chief archaeologist of the sixth century ruins during the inaugural sail late on Saturday.
"Wines, olives, marble for St Peter's, salt from the coast, ceramics from all over the Mediterranean... plundered obelisks from Africa, elephants for the games at the Colosseum all came up the river."
Passenger boats began plying a fold of river in the heart of Rome in April after the success of tour boats in Paris, where visitors can cruise the Seine day and night and sunbathers and children with buckets and spades crowd the riverbanks in summer.
No such larking happens on the Tiber's city centre reaches, where pollution and high banks built in the 1870s to prevent floods block the river from the eyes and minds of many Romans.
But Rome council dredged 38 tons of tree branches and garbage out of the Tiber and scrubbed kilometres of graffiti off riverbed walls in an attempt to bring the Tiber back to life.
"It was a vanished river," Rome Mayor Walter Veltroni said on Saturday, binoculars in hand to spot passing wildlife. "More part of literature than reality."
Now, for 10 euros, tourists can take a glass-covered boat beyond the walls, past ploughed fields, olive trees and the remains of ancient warehouses up close to the mouth of the river where Virgil's Aeneas, retreating from Troy, anchored his ships.
They can then jump off among pine trees and take a tour of Ostia Antica, where black and white mosaic floors of battling sea monsters are considered equal to many of those at Pompeii.
"I didn't even know this existed before and it's so peaceful after the city," said Silvia, a tourist on the maiden voyage.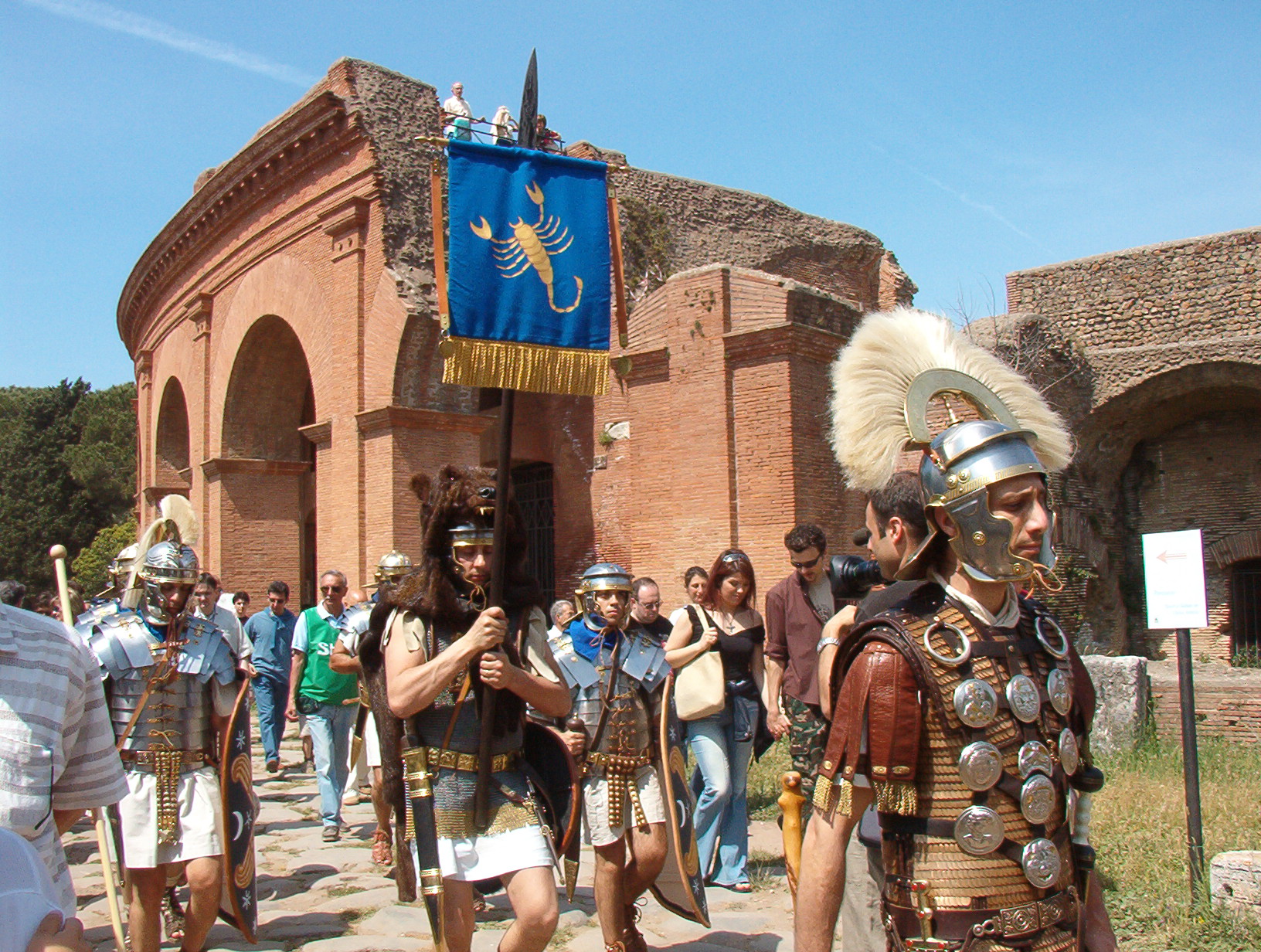 Reenacters Gathering last June in Ostia Antica
Photo Courtesy of Associazione Principia