The water-lift comes to life
March, 2003
London - During 2001 (see the news) excavations in the heart of London, the equipe of the Museum Of London Archeology Service (MoLAS), discovered the remains of two huge water-lifts in two deep wells.
The remains, dated from 63 to 108 AD, are mainly composed by a big treadmill while the rest is lost probably due to the revolts that burned the city in those years. The team calculated that to make this plant operational were enough a couple of men to provide water for at least 8000 of the 24000 residents of ancient Londinium.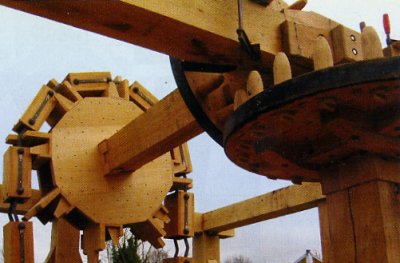 The treadmill rebuilt
Now the water system is fully rebuilt and visible in the Musem of London until next May.